FAST, SAFE & EASY!
The Rapid Slicer® is the ultimate time-saving, multi-purpose kitchen tool!

Save time & keep your hands safely away from your knife when slicing a variety of foods.
Proudly Made in the USA!
OUR CUSTOMERS LOVE THE RAPID SLICER®
The Rapid Slicer is a fantastic addition to any cook's kitchen.  It is an extremely high quality product that makes cutting so much faster.

Stacy
I love this slicer! I rarely write reviews, but this literally changed my life. I have fibromyalgia and have trouble gripping things. I also have a host of tiny scars on my hands from cutting myself instead of the veg. I am stunned by how easy this is to use, and the protection it gives my hands!

Theresa
I am a gadget freak but I must say this one is very impressive!  I hate slicing cherry tomatoes and this worked very well!  Great stocking stuffer!

Pat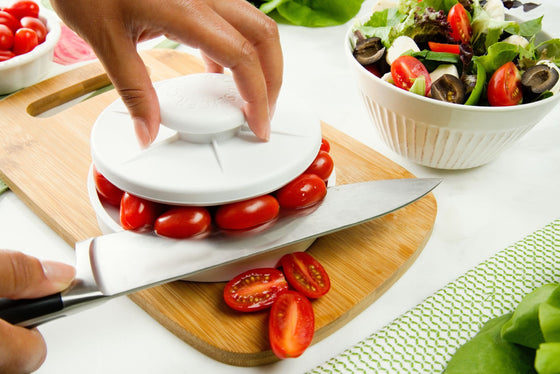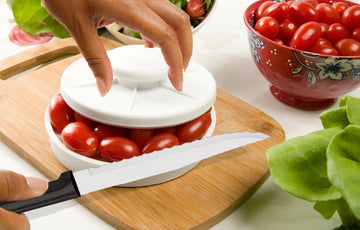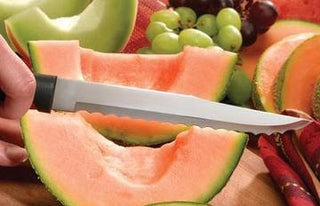 Introducing
The Rapid Slicer®
Love to cook, but don't love time-consuming, repetitive tasks? Safely slicing fruits, vegetables, meats, and even bagels is a snap with the Rapid Slicer®. Safely slice them all in seconds!


Buy Now
So Versatile!
Safely slice a variety of foods
From grapes & tomatoes, to olives, strawberries & potatoes.  It's also a stable platform for slicing chicken, shrimp & bagels!
Buy Now
AS SEEN ON TV!
The Rapid Slicer has been featured on QVC, the Today Show and Good Morning America as well as many other publications and TV shows.